Don Kennedy ~ Web Sites and Images
Thank you for viewing this introduction to images and
web sites I have created. I welcome your feedback
and look forward to hearing from you.
Sincerely,
Don Kennedy
These are the images I used to create the image of the family who's home was condemended
This is the final image of the displaced family. Many Photoshop tools were used in to create this image.
Zebra: Three layer image using brush, paint, crop and text tools in Photoshop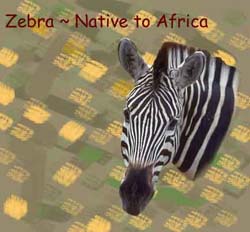 The Eifel Tower: an example of a stylized image using various Photoshop tools.
Web Superhighway
Designed in Dreamweaver. Images created and sized in Photoshop.
@SecuritY
Designed in Photoshop; spliced in Imageready.
Finished in Dreamweaver.
John L. McClellan High School Reunion
Designed in Photoshop; spliced in Imageready.
All images croped, sized, retouched in Photoshop.
Site finished in Dreamweaver.
Bread4U
Designed in Photoshop, spliced in Imageready. Finshed in Dreamweaver.
Renaissance Stained Glass Artisans
Logo, buttons and rollovers designed in Photoshop. Site constructed in Dreamweaver.
This is a site portfolio prepared as part of a
Web Developer certification program
Don Kennedy is enrolled in at El Centro
Community College in Dallas, Texas.
© Don Kennedy ~ November 2001